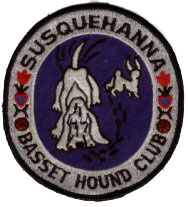 EVENTS 2023 UPDATED!
Fall Field Trial 2023
Swatara Beagle Club
November 4th and 5th, 2022
1364 Elm Road Elizabethtown, PA
Annual Meeting- November 4th, at 6 pm
UPDATE!!!
Due to lack of game the HUNT TEST has been cancelled
November 18th & 19th
co-hosted by SBHC and Valley Forge BHC
Central Jersy Beagle Club, Flemington, NJ
2024 Specialty Shows- TBA
For more info on any of our events, contact:
A. Kenneth Engle, SBHC Secretary/Treausurer
201 Fishing Rod Road LIverpool, PA
Phone (H) 717-444- 3250 (C)717-460-3433
Email: aengle@embarqmail.com
-
If you would like to make a donation to the trophy fund, mail a check to the Secretary/Treasurer.
Members, if you have not paid your dues, please send your check for $5.00.
© Susquehanna Basset Hound Club 2023