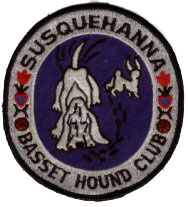 EVENTS 2023
TBA
Spring Field Trial
April 1 & 2 2023
Swatara Beagle Club
1364 Elm Road
Elizabethtown, PA
Specialty Shows
Due to the change of date for the BHCA Nationals this year to the same date as our annual show,
SBHC will not be holding our annual Specialty Show this year. See you next year!
Fall Field Trial
Swatara Beagle Club
November 5th and 6th, 2022
1364 Elm Road Elizabethtown, PA
Annual Meeting
TBA
TBA
BHCA Hunting Performance Tests
and Meet the Breed
Check this website for updated information
For more info on any of our events, contact:
A. Kenneth Engle, SBHC Secretary/Treausurer
201 Fishing Rod Road LIverpool, PA
Phone (H) 717-444- 3250 (C)717-460-3433
Email: aengle@embarqmail.com
If you would like to make a donation to the trophy fund, mail a check to the Secretary/Treasurer,
Members, if you have not paid your dues, please send your check for $5.00.
© Susquehanna Basset Hound Club 2023