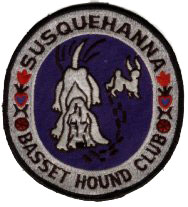 Spring Field Trial
August 24 & 25, 2021
Swatara Beagle Club
1364 Elm Road
Elizabethtown, PA
Specialty Shows
August 27, 2021
Papillonia Dog Training Club
1127 Felton Road
Red Lion, PA 17356-9300
SHOW CHAIRWOMAN: Anne O'Reilly
adorbasset@msn.com
JUDGES:
AM Show : Douglas Broadfoot, Madison Heights, VA
Sweepstakes : John D. Arvin. Barnegat, NJ
4-6 Month Beginner Puppy Show: John D. Arvin
PM Show: Deirdre Petrie, Leola, PA
Join us for fun, food, fellowship, and raffle
Fall Field Trial,
November 6 & 7, 2021
Swatawa Beagle Club
1364 Elm Road
Elizabethtown, PA
Annual Meeting
November 6th, 2021
Cancelled - due to storm damage the hunt test will be rescheduled at a future date.
BHCA Hunting Performance Tests
and Meet the Breed
November 20 & 21, 2021
at Central Jersey Beagle Club
133 Ferry Road
Flemington, NJ 08822
Co-hosted by SBHC & VFBHC
Check our website for updated information
For more info on any of our events, contact:
A. Kenneth Engle, SBHC Secretary/Treausurer
201 Fishing Rod Road LIverpool, PA
Phone (H) 717-444- 3250 (C)717-460-3433
Email: aengle@embarqmail.com
If you would like to make a donation to the trophy fund, mail a check to the Secretary/Treasurer,
Members, if you have not paid your dues, send your check for $5.00.
© Susquehanna Basset Hound Club 2021